UNLOCK AND UNLEASH YOUR POTENTIAL TO A STRONGER, MORE FLEXIBLE BACK IN JUST FIVE MINUTES A DAY!
iS YOUR ROTATION HELPING OR HURTING YOUR ABILITY TO WORK OR PLAY?
The award-winning TrueTurnPro will help you restore healthy back function in just five minutes a day!
A Better Back = A Better LIFE
Golf performance directly depends upon the health of your spine, therefore investing in your back is synonymous with investing in your game. Begin your path to a better back with a TrueTurnPro.
The Inspiration Behind the TrueTurn Pro
Carl Horne explains why he created the world's first Thoracic Spine Isolation Device.
Driven by a passion to help improve joint function, Carl invented TrueTurnPro as the answer to restoring thoracic mobility. While the journey to get here wasn't easy, perseverance has allowed us to change lives.
Meet Carl Horne, Inventor of TrueTurnPro.
Our Inventor and Founder, Carl Horne isn't just an avid golfer and former Los Angeles Clippers Strength and Conditioning Coach, he has an impressive professional list of membership and affiliations and is the owner of In2One Wellness.
Professional Memberships, Affiliations and Experience
Carl believes his purpose in life is to create products and protocols to optimize joint function and enhance human movement for sports performance and the overall love of life. Read his T-spine Mobility for Golf article on TrueTurnPro.com and understand how TrueTurnPro is not your average broomstick and was designed and engineered to enhance and protect the function of your back.
Take your FREE Back Stabilization Assessment and find out what level exerciser we would categorize you in and how you should approach using the TrueTurnPro!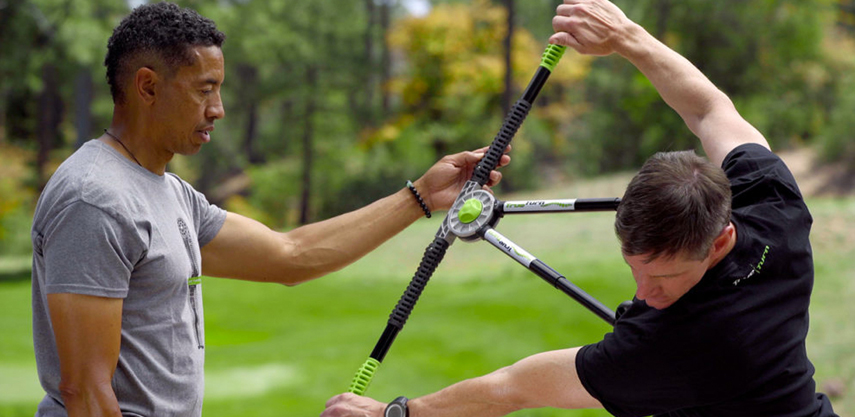 Listen to how the TrueTurnPro has helped people just like yourself
The patented TrueTurnPro introduces the world's first Thoracic Spine Isolation Device designed to increase flexibility, rotation, back health, and core strength. The TrueTurnPro is already helping improve the game of golfers worldwide.
TrueTurnPro has been featured
in over 30 publications nationwide!
Trying to Improve Your Game?
Increase your core health, speed, power, and distance.
The TrueTurnPro training philosophy is centered around body control. Acquiring control of the thoracic spine (rotation) lends to gaining control of club position, which in turn gives more control over ball flight. The TrueTurnPro sports specific drills for golf are designed to improve:
Purchase your TrueTurnPro Today
Improved Golf Swing Mechanics 
Want to improve your golf swing? Performance is a great place to start. However, the patented TrueTurnPro is designed and engineered for Prevention, Rehabilitation, and Performance.
Every TrueTurnPro includes: